About the Decks, you get to choose one for the workshop. Please allow time for shipping when registering.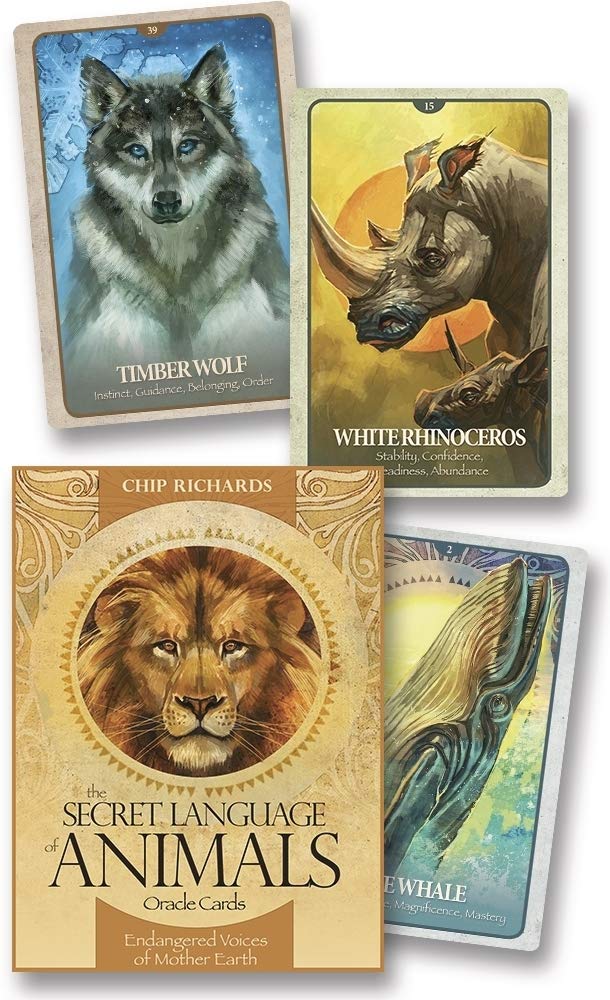 Secret Language of Animals Oracle by Richards/Manton. There was a time when our ways were intimately woven with the pulse of the natural world. The answers to life's great questions were found not in books but in quiet communion with the voices of Mother Earth. From the mighty whale to the tiny bee, each animal and element was seen as sacred and was honored for the gift it brought to the greater circle of life. The Secret Language of Animals is a doorway to reconnect with the wisdom of nature through the messages of a handful of our planet's most threatened species. By honoring the insight they bring to us, we deepen our connection to our own path and calling, while awakening our role in the preservation and balance of life. Now is the time. Listen to the whispered call of the Secret Language of Animals. Includes 168 page book. 46 cards. Card stack is 5 1/2″ x 3 3/4″ x 3/4″
Psychic Developmental Studies with Oracle Cards
5 hours July 23rd 930- 1pm CST    IN PERSON Deerfield, Wisconsin
Price: $111.00, Includes both days, anatomy and physiology, techniques, practicum, empowerment,
shipping of the cards.*International shipping is extra.
Would you like to further develop your intuition?

Would you like to receive guidance on the big questions in your life?

Would you like to help others gain insight into their lives?

Would you like a better understanding of how your 6th sense works?
Discover the cards' deep meaning for yourself as they bring personal enlightenment and empowerment. Learn their symbolism, the insight of which you can apply to each reading for self-purpose and improvement in everyday life. Kathy will provide workbook, empowerment, and practice time.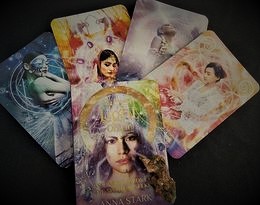 Sacred Light Oracle by Anna Stark, Sacred Light Oracle offers 36 cards that blend messages from the ascended masters and spiritual hierarchy. Each card has an associated ascension master, crystal, and affirmation that are aligned to connect you to higher levels of light frequency. The oracle offers you the knowledge and wisdom to lovingly raise your personal vibration to support your divine presence here on earth. The cards are infused with crystalline energy, combining the healing frequencies of sacred geometry and powerful light energy to support your personal growth and spiritual practice. Access the light realms to expand your consciousness and receive direct messages from your ascension guides and celestial teachers with love, compassion, and understanding. The spiritual hierarchy will encourage you to rediscover your innate relationship with the universe. With loving affirmations, sacred crystals, and messages from the masters, your inner knowing will be awakened with peace and clarity as you walk the mystical path of spiritual ascension.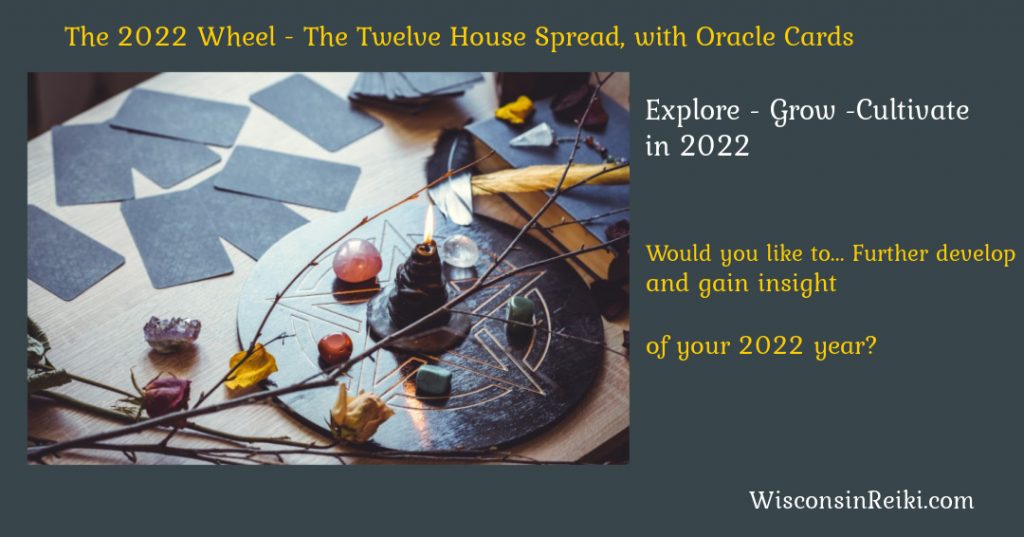 The 2022 Wheel – The Twelve House Spread, with Oracle Cards
Integrating Your Intuitive Nature, with Kathy Milanowski, LRMT
Prerequisite: You are comfortable with your deck of Oracle cards.
TBA CST ZOOM/LIVE
Price: $111.00 includes, workbook & empowerment
Would you like to join a supported environment to work on your yearly visions for yourself?
Would you like to further develop to gain insight of your 2022 year?
Would you like to receive guidance on the big questions in your life?
Come join Kathy Milanowski to learn how to read and create your own monthly sacred year card spread for the year 2022. In her classroom environment you can develop the trusting connection with your mind's eye as she offers an empowering activation and guides the class in the Astrological houses with their cards to interpret their upcoming year.
Monthly Event
Psychic Sharing Circle
a community share for psychic practice
Prerequisite: You are comfortable with receiving & offering readings
Every 1st Thursday of the month
630-8PM CST ZOOM/LIVE register with Reiki University to get your free tickets Click Here to Join NOW